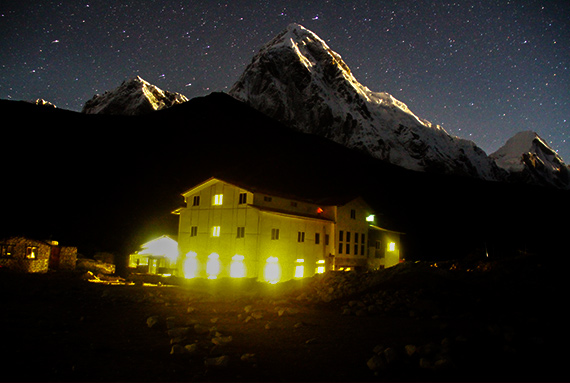 Hotel Everest INN
Breathtaking views of the formidable Khumbu glacier and the striking snow capped peaks welcome guests at Everest inn, Gorakshep. Situated at an altitude 5180m, Everest Inn is the byword for rest and relaxation in a fascinating mountain world.
Gorakshep Yeti Resort (P) Ltd. established in 2004 was amongst the premier resorts in Gorekshep. Heeding to the dire need of better accommodation facilities on the mountain, Gorekshep Yeti Resort established Everest Inn.
Established in 2004, Everest Inn with world class facilities including well appointed rooms, specious and heated dinning hall serving multi cuisine will pamper you with traditional Sherpa hospitality to make you feel on top of the world, literally.
The Hotel blends traditional architecture with luxurious accommodation to create a unique experience. To maintain the eco friendly attitude, the entire lodge was built using insulated prefab material and steel reinforcement with double glazed windows.
We cater to the needs of all trekkers and mountaineers, offering exceptional service and value to make your stay in Gorakshep one of your most memorable experiences.
Hotel Everest Inn offers traditional Sherpa hospitality combined with 55 elegantly furnished rooms that are well-equipped.
The Hotel Everest Inn's multi-cuisine restaurant serves elaborate Sherpa and continental cuisines at its best.
The Inn caters horses for those trekkers who are tired of walking but stil want to visit Everest basecamp.